Visiting Professors Testimonials
"I never experienced the level of intellectual discourse and enthusiasm from students as I did when I taught at IUGS. What you offer your doctoral candidates is to be applauded."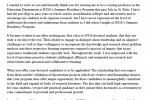 Stanley W. Thompson, Ed.D.
Education Program Director, The Heinz Foundation Endowments
"Atypical of many graduate programs, the students were incorporating their school experience directly to their professional work."

Claudia Black, Ph.D.
Leading Expert in Addiction and Co-dependency
"I apologize for this delayed expression of appreciation for allowing me to be a part of the wonderful community on St. Kitts this summer. It was all too short. I had a wonderful time. The location was heavenly, the faculty stimulating and the students absolutely stunning.
I want to say something special about the students. First, I was on a learning curve about who the students were and what they were all doing. Second, as I became acquainted with them I was very impressed. I saw them all as mature, intelligent and committed to their vocation. I was impressed that they were working at the Ph. D. level and they were clearly functioning at that level. I was challenged by their questions and by their comprehension.
I want to congratulate you on making this opportunity for the students and faculty and those of us who get to be visiting faculty. I felt deeply honored by your invitation and by your gracious welcoming of me, and if I can be of assistance again, please let me know."
Harville Hendrix, Ph.D.
Co-founder of Imago Relationship Therapy
"I am an Assistant Clinical Professor of Psychology at Harvard Medical School, and have been on the faculty there for over 20 years. As a result, I have had the opportunity to teach and supervise many doctoral students in clinical and counseling psychology from a wide variety of graduate programs.
I was a Visiting Residency Professor at the International University for Graduate Studies in July,2006. In this capacity, I had the opportunity to teach and interact with students pursuing the doctoral degree over a period of five days. While I did not have the opportunity to observe or evaluate their written or clinical work, I was able to observe their participation in a classroom setting.
My impression was that the students varied widely in their backgrounds, and that this made for a wide variety of learning and interactive styles. Most of them were more mature than the average doctoral student, and brought a great deal of relevant life experience to their studies. This made for rich, culturally sensitive explorations of both theoretical and clinical material. Many of them were already experienced clinicians who had been trained in allied professions. Others had relevant life experience in areas such as teaching and personnel management.
While I cannot vouch for every student, in general, the level of discussion that I observed and the students' capacity to learn new material was commensurate with what I've observed from students enrolled in other doctoral programs."
Ronald D. Siegel, Psy.D.
Licensed Clinical Psychologist
It was a pleasure to teach at the International University for Graduate Studies. I found the students to be most eager to learn about Forensic Psychology and the role clinicians play in this exciting field of study.
The students who attended my classes were prepared academically to learn this material. They came with a breadth of background experience, commensurate with other doctoral students with whom I've had experience. They exhibited a familiarity with the material, and were ready to apply it to their academic and clinical fields of expertise.
I greatly appreciated my experience with these students, and would be interested in teaching at the school again in the future.
David B. Hawkins, ACSW, Ph.D.
Licensed Clinical Psychologist, Board Certified Forensic Examiner
"I have been a visiting professor for the International University for Graduate Studies and participated in a residency held at St. Kitts, West Indies. In that course I taught "Psychiatric Diagnoses and Utilizing the DSM-IV" and "Psychopharmacology." The course was prepared at the level of a second year medical student. The students were bright, attentive and receptive.
Having taught undergraduates, graduates and post graduates at Marshall University and West Virginia University I would judge the students participating in that residency as equivalent."
Bobby A. Miller, M.D.
Board Certified Psychiatrist, Board Certified Forensic Psychiatrist, Board Eligible Neurologist
"I highly recommend the PhD programme at the International University for Graduate Studies. It is a University where life experience is recognized and rewarded. The University's faculty and staff encourage and support self-realization of creative potentials to achieve a doctorate in an individual's chosen career field. I found my educational experience at the University to be a meaningful and important part of my life. I am proud of the doctorate I earned from the University in July 1999."
Robert Quackenbush, Ph.D.
Psychoanalyst, Lecturer, Prolific Author of Books and Articles, Edgar Allen Poe Special Award for Best Juvenile Mystery
"For me, the value of International University was not as much the doctorate, as it was the intrinsic value, conceptual and practical enrichment and dynamic understanding of psychoanalytic depth and range, which came from working with faculty and students."
David Eisner, Ph.D. 
Private Practitioner and Teacher – The Achievement Center, Sarasota, Fl
"Completing my doctoral dissertation brought me the creative challenge of writing, the great satisfaction of good work and many years of experience honed into a fine work – the dissertation itself. I feel more self-respect and self-esteem and a sense of joy and relief. Thank you for the opportunity to do this and treating me with respect in the process. My two sons, 24 and 19, have observed my work, and my modeling by sharing in this completion. The completion and success are also felt by others: family, friends, colleagues and patients."
Penelope A. Tarasuk, Ph.D.
Jungian Psychoanalyst/Psychotherapist, Private Practice Supervision of Graduate Candidates and Dissertation Reader.
Faculty and Training Board CG Jung Institute of Boston
"My doctorate has enabled me to expand my professional activities, including teaching, participating in conferences, and mentoring. I am excited to be a graduate of IUGS, and hope to share that enthusiasm with others contemplating a degree from IUGS."
Margery C. Quackenbush, Ph.D.
Site Visitor, American Board for Accreditation Psychoanalysis, Administrator/Director, National Association for Advancement of Psychoanalysis.
Yes, the degree helped me obtain a Social Security and Medicaid Contract.
Michael H. Schuman, Ph.D.
Consultant to Government and Private Organizations
"It has been a privilege for me to be associated with International University for Graduate Studies. This unique programme fulfills the needs of many that have finished their coursework but have not completed their theses. The members of the faculty were most supportive and worked with me to complete my degree. I received my PhD in library science in July 2004. As a result of this degree I was able to apply for a position at the School of Communication, Information and Library Studies at Rutgers University where I am now an assistant professor. I would recommend this programme to others who meet the University's qualifications."
Kay Ann Cassell, Ph.D.
Assistant Professor
"Upon reflection, regarding my experiences with International University for Graduate Studies, many wonderful things come to mind – the enriching classes; the challenging discussions; the opportunities in professional development; the exhilarating cohort process employed by IUGS, the camaraderie of my classmates, and the personal attention given to me by Dr. Ross and Dr. Weisman.
But amongst all of these, the one I will always treasure is the manner in which Dr. Ross, Dr. Weisman and the instructors made me feel – which was that I was the most important person in their programme. With that kind of encouragement, how would anyone feel?
IUGS has given me these feelings, but also has given similar feelings to the many students I have spoken to since graduation. IUGS has a special programme with special teachers and special students. I will always remember IUGS and its special teachers and programmes.
The motto that I have used in my present position, as Superintendent of Schools, is that Mount Pleasant Central School District is "The Place to be!" Many, many individuals have enthusiastically embraced this motto, for which I am most happy. I can now tell you and anyone who is interested in the IUGS programme that it too is "The Place to be!"."
Alfred Lodovico, Ed.D.
Superintendent of Schools

"I am a 38 year old happily married mother of two young sons. I also provide care to my 87-year old father who has Alzheimer's. It had been my heart's desire to obtain a doctorate; however, time and convenience were always strong factors in delaying my goal……I was skeptical as to the school's validity and called the minister of education within the government of St. Kitts as well as the school itself. The latter investigation provided the information I desired and I began the application process. I enjoyed my educational experiences within the Clinical Christian Counseling programme. I traveled to Florida for conference teachings, completed a residency in St. Kitts, wrote a book, met regularly with a mentor in my chosen field of study and completed coursework in religious studies at Gordon-Conwell Theological Seminary. My Dean, Dr. Crews, was a joy to work with. Thanks IUGS!"
Cheryl Ann Green, RN, LCSW, Ph.D.
I recently heard that you were now the Chancellor. Congratulations. It has been two years since I received my Ph.D. from IUGS and I remember at dinner following my graduation ceremony you came up to me and congratulated me on my accomplishment. You called me "Doctor" and said something to the effect that it takes a while for the title to fit. I think it has finally begun to "fit". I have recently published my first book (based upon my Capstone project) "Co-occurring Substance Abuse and Mental Disorders: A Practitioner's Guide" and also published an article in "Social Work Today" magazine. Many new doors and exciting opportunities have come my way since receiving my Ph.D. and I am very grateful that IUGS was there to help me to achieve a life-long goal.
I would like to remain involved with IUGS in any way that I can. If there is any way that I can be of service please let me know.
John K. Smith, Ph.D., LCSW
I would like to take a minute to express my sincere appreciation and gratitude to all of the talented individuals that make International University for Graduate Studies such a wonderful institution. This School provided me with a respectable well-rounded degree that I am very proud of. My journey to becoming a DOCTOR at this school was not just about receiving a fine degree. This journey with International University helped me to realize what phenomenal talents I have. I have been in a stagnant professional rut for several years, and this school helped me to revitalize my passion for my profession, and remind me why I went into the helping field in the first place. As my mentor, Dr. Raymond Dorritie, gently pointed out, I was the only one holding myself back. This fine institution gave me the spark I needed to restart the passionate fire I have for helping others. As a young hard-of-hearing woman working with Deaf and Hard of Hearing Adults, I felt that my disability limited me to work with only this population. Even though my first love is working with the Deaf and Hard of Hearing community, this is not the extent of my talents. International University for Graduate Studies helped me realize my other hidden talents with the individualized curriculum and mentoring used to help me obtain my degree. Since I have started with this degree programme, I have joined a group private practice and am doing extremely well. I have also started doing consulting work with a prestigious substance abuse treatment center. I am starting to do some presenting at conferences. This professional boost has helped with my overall feeling of professional and emotional satisfaction. My deepest gratitude and appreciation.
Erika Lohmiller, Ph.D, LCPC, CADC, MISA II
"Completing the doctoral program in social work at International University for Graduate Studies was just the step I needed to take for both personal satisfaction and to open the door for further career opportunities. It gave me an insight into what I had already achieved in my professional life and condensed my accomplishments into the concrete achievement of an advanced degree. Thank you IUGS!"
Dr. Leslie Liberty, DSW, LCSW