Library Science
The Doctor of Philosophy (PhD) in Library and Information Science is available to librarians who are ABD, or have two masters' degrees, one that is ALA accredited Library Science and one in another discipline, or the equivalent coursework. The PhD in Library and Information Science is designed to fill a professional need by librarians and focused on the mission of International University for Graduate Studies (IUGS). The length of time to complete the PhD degree varies. To be sure, most candidates can complete their doctoral requirements in six (6) to eighteen (18) months. Of course, this depends on their level of enthusiasm, practical experience, the frequency in connecting with the mentor, and personal commitment to life-long endeavors.
Sixty-six (66) graduate credits are needed for transfer. These credits may be obtained prior to or after admission. An additional twenty-seven (27) credits are to be earned at International University for Graduate Studies (IUGS). Candidates are required to undertake the following:
Twelve (12) credits of non-classroom research and design. This is the foundation for the eighteen (12) credit approved doctoral dissertation and oral defense;
Three (3) credit five-day doctoral seminar at the seven-day residency in Dominica.
The sixty-six (66) transferred credits and the additional twenty-seven (27) credits which are earned at IUGS will total ninety-three (93) credits. This is aimed to meet the academic prerequisites for the PhD in Library and Information Science.
Before writing the dissertation, all candidates must select a mentor with a doctorate in a related field of study so that he or she may guide the doctoral candidate with a successful dissertation. The mentor should bring expertise, real-world experience, value, and research ethics to the dissertation and who has practiced an aspect of librarianship, Information Systems, Storytelling, or Archival Management. This professional may be selected by the doctoral candidate or assigned by the Chairperson of Library Science.
The academic environment at International University for Graduate Studies respects the doctoral candidate's professional development, academic background, and their path in adding to the wide body of knowledge. Doctoral candidates bond with mentors, faculty and fellow students through research, seminars and presentations, and consistent communications, while exploring and accomplishing their professional goals.
Click here for complete programme description  Library Science Outline – 2018
---
Doctor of Philosophy (Ph.D.) Degree Requirements
Two masters' degrees, one in Library Science and one in another discipline, or the equivalent coursework.
Documented pertinent professional experience.
93 credits*, which include the following:

66 post-baccalaureate graduate credits* on-line with IUGS or in transfer, prior to, or after admission.
Research and Design, I & II. (12 credits)**
The five-day Graduate Seminar at the seven-day Residency (3 credits).
A Dissertation and Oral Defense. (12 Credits)
*All relevant graduate credit, including those credits from graduate degrees, as well as approved graduate level, continuing education, certification and licensing coursework.
** Distance Learning.
---
What are the costs?
ALL TUITION AND FEES ARE PAYABLE IN U.S. DOLLARS
Application Fee $250 (non-refundable)
Doctoral Degrees
| | |
| --- | --- |
| Tuition (Includes advisement, library fees, the Graduate Seminar, workshops, Research and Design I & II, the external and internal reviews of the dissertation, the oral dissertation defence and the printing and binding of the capstone project or the dissertation.)1 | $20,000 |
| *Mentor Fee (PhD candidates are required to hire a mentor.  The typical mentor fee is $2,000 but is negotiated between the candidate and the mentor.) | $2,000 |
| Travel, food and lodging (Estimate) | $2,500 |
| | |
| Total Cost ¹   | $24,500 |
1 Total Cost does not include the cost for the evaluation of continuing education course content or for the testing of unevaluated continuing education coursework submitted for transfer, or online courses offered by the University.
| | |
| --- | --- |
| Graded (evaluated) | $200 per credit |
| Ungraded (unevaluated) | $300 per credit |
| Independent study and online courses (if needed) | $450 per credit |
---
Meet the Dean – Otis D. Alexander, Ph.D.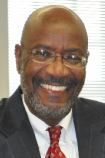 Otis D. Alexander, MLS, PhD
Dean, Faculty of Library Science
Click here for Bio of Dr. OTIS ALEXANDER – 2018