The Residency
The 35th Annual International University for Graduate Studies
Residency & Graduate Seminar
Date:  Sunday, May 27th  –  Friday, June 1st, 2018
Located at 
The Atlantique View Resort, Anse De Mai, Commonwealth of Dominica, West Indies
The five-day graduate seminar at the seven-day Residency is required for doctoral candidates. For students seeking other degrees, CEUs, or certifications the Residency is optional.
The Residency provides a learning environment in which candidates, faculty, and administrators make academic, professional, and personal connections. Many candidates, as well as faculty and alumni, bring families and friends to share this experience. The Residency is open to other professionals and academics who want participate in a professional-level learning opportunity and in certain instances earn CEUs or certificates. Students will be sent reading lists prior to the residency.
The format of the Graduate Seminar is interactive, where candidates research and discuss up-to-date journal articles that are relevant to their own research topics, lectures, and transfer of learning plans along with their professional and academic interests.
Residency Seminar Schedule:     IUGS 2018 SEMINAR SCHEDULE
Atlantique View Facebook site:  https://www.facebook.com/atlantiqueviewresort
Atlantique View Youtube site:    https://www.youtube.com/watch?v=WMpz43Pza4s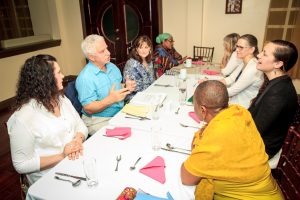 Caps & Gowns
The following will provide you with the information you require regarding the ordering of caps and gowns for the graduation ceremony.
The telephone number for ordering your cap and gown is (800) 456-7623. You can call between the hours of 8:15 a.m. and 5:00 p.m. EST.  Ask for the customer service person that handles the International University for Graduate Studies account # 013435. 

The majority of our graduates order the Souvenir outfit which includes the gown, tam, and hood. The cost of the Souvenir outfit is $85.00. This garment is preferable as it is made from a lighter weight material. Please let the order person know which program you are graduating from so the appropriate colors can be chosen for your garment.
Also available is the Academic Regalia which is a heavier garment. The cost of the academic regalia runs between $400-800/outfit.
Shipping charges are $15.95.
Turn around time is approximately three to four weeks.