Addiction Studies BS & Post-Bachelors Certification
There is a growing demand for further education and credentials in the area of addiction. You may have a professional and academic background similar to our current candidates. Are you a licensed addiction professional with a bachelor or master's degree who has taken professional and continuing education courses or are you an addiction professional seeking a bachelors and post-masters certification as well as an international certification? If you are, you may have completed all the needed coursework for your master's or doctorate. An examination may be required to convert this coursework into graduate credit.
The faculty are practicing professionals who possess at least one earned doctorate and who are good communicators. Therefore, both theory and practice are integrated for the education that is required for your professional growth and recognition.
The Combined Bachelor of Science and Post-Bachelors Certification in Addiction Studies is specifically designed for professionals who possess an associates degree and certification or licencing in addiction or related studies.
---
Bachelors of Science & Post-Bachelors Certificate in Addiction Studies Degree Requirements
An Associates Degree
Documented Pertinent Professional Experience
Certification or Licensure in Alcohol or Drug Counseling
114 Credits* Transferred Prior to or After Admission

9 Graduate Distance Learning Credits Taken at IUGS
3 Graduate Seminar Credits taken at the 10 day Residency
*Includes all associate degree and college credits as well certification, licensing, approved internships and continuing education coursework at 13½ contact hours or the equivalent for each academic credit.
---
What are the costs?
ALL TUITION AND FEES ARE PAYABLE IN U.S. DOLLARS
| | |
| --- | --- |
| Application Fee $100 (non-refundable) | |
| Tuition (Includes: Advisement, Evaluation of your Portfolio, Library fees, 9 Graduate Credits of Distance Learning, and 3 Graduate Credits at the 10 day residence.)1 | $9,500* |
| Travel, food, lodging miscellaneous (Estimate) | $2,000 |
| Total Cost | $11,500 |
Payment plans are available and can be discussed by calling Carolyn in our N.Y. Office listed here.
1 Total Cost does not include evaluation of continuing education coursework that are not from licensing or certification.
Unevaluated CEUs: $100 an academic credit
Evaluated CEUs: $50 an academic credit
---
Meet the Dean – Dr Judith Balcerzak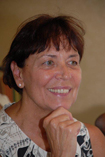 Judith Balcerzak, PhD.,MSW,  LCSW
Dean of Addictions Studies Programmes
Dean of Marriage and Family Therapy Programmes
Director of Online Education
Dean of Faculty of Social Work
(more)